"I feel like Sir Synthesis is just another way of saying boyband. 'Boy-sir' 'band-synthesis'."
That's what Thress, the lead singer and bassist for Sir Synthesis, told Slice of Culture. Sir Synthesis is a Union City-based, psychedelic alt-rock band that has been riding the music scene for a few years now.
Joining Thress is Sellos on the drums, and Ben and Deivi on guitar and accompanying vocals.
Together, they've been laying down artistic compositions from their roots. For Thress, growing up with pop-punk influences in Pierce the Veil and Sleeping with Sirens — and later influences by Phoenix and The Strokes — were the origin for his sounds. He would also come to blend his sounds with his Cuban heritage.
"So more going into the roots of Cuban music, for example, like the conga and the bossa nova beats that you'd hear in Spain," he said. "I wanted to take a lot of the essences from different cultures that I related to, and kind of bring it to something that's a step further."
Bossa nova is a Brazilian samba that has influenced various other regions of the Hispanic world including Cuban mambo, sharing a similar sound in its percussion pattern, the two-three and three-two son clave, which can be noticed in the dreamy guitar riff on their song "Caribbean Social Club."
As for the rest, the band carries with them an armory of influences in art rock, neo-soul, R&B, jazz, heavy metal, gospel, and of course, psychedelic.
"Psychedelic sticks out a lot farther than most genres simply because there's a way to express different types of music and sounds with it," said Thress, referencing Lil Yachty's recent psychedelic venture in "Let's Start Here."
"Psychedelic is having a big moment right now," said band member Ben, noting King Gizzard and the Lizard Wizard as one of the big modern influences in the psychedelic genre. "I feel what separates Sir Synthesis is the groove [we] have. I feel that it is particularly unique to us."
That groove is apparent throughout their debut album, "Monsoon" — album art designed by their photographer, Suo — which takes the listener on a journey through the clouds with tight yet mellow waves toward "psychedelic wonders" that surround you (a cute reference to the fifth track "Where the Rainbows Lie").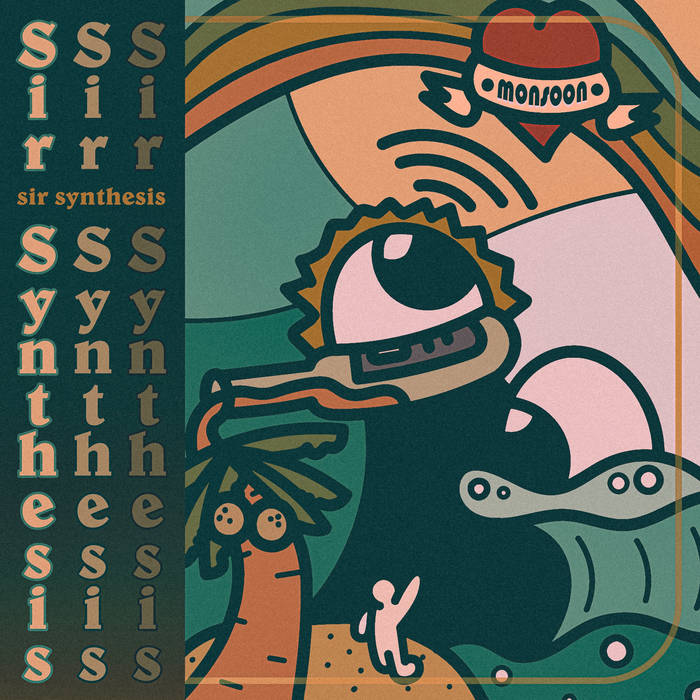 The album gives the listener a fresh young psychedelic sound, with the titular track, "Monsoon," displaying its Caribbean, beachy feel right out of the gate, making you want a piña colada to teleport into your hand as you bask in the groove like the sun.
A lot of the sounds on this album likely would not have made it to our ears if it weren't for the pandemic, which was the catalyst for Thress' former band, the Lo-Fi's, to break up. Some tracks from the album like "Walk True," "Morning Rain", and "Caribbean Social Club" were originally Lo-Fi tracks that were meant to be released, but plans changed.
The social climate also being affected by the fervor of cancel culture and the Black Lives Matter movement caused some members like Thress and Deivi to slow down and reevaluate their approach to the scene.
It was here that the band had its initial formation, with Thress and Sellos being original members of the Lo-Fi's.
"I recollected myself," said Thress. "I recollected my train of thought and my momentum and I found those friends that were willing to push with me. And we just took it by storm."
Deivi agreed and stated how the face-paced lifestyle he had pre-pandemic was interrupted and he was encouraged to step back and find influence and encouragement in the isolation. He connected with the band through Sellos and joined soon after seeing one of their live performance in Journal Square in Jersey City.
It was the driving force behind Ben's eventual introduction to the band. Living in New Orleans at the time, his former band also broke up due to pandemic-related difficulties, which caused him to move back to his hometown of Little Falls, NJ to reset.
It was then he found Sir Synthesis through their music and eventually joined in September 2022.
The music has always been the main driver of everyone in the band. For Sellos, it's not just a hobby, but a way to express himself among his peers and improve his original compositions.
For Thress, music has been with him throughout his life from influences in his family like his late uncle, Chi Chi.
"He was one of the first few family members that pushed me to do music," he reminisced. "He used to ask me to go to his Cuban cigar shop and just like, play some congas or slap a little bass or something."
Ben was the first in his family to pursue and explore music. Although heavy metal and punk rock were his first loves, he also draws on the gospel music from his family's church as part of his drive.
"As soon as I got into music and I had all these influences coming at me, I was like 'I simply must be in a band.' There's no coming back from that!" he laughed. "I'm all over the place at this point and that's how I like it."
As for Deivi, the community he's built around himself from those in his past is a big part of his drive. Coming from a classical music background, like Sellos, he was inspired by his fellow students branching out into other areas of music.
"They're just trying to express themselves," Deivi said. "It's so easy to lose that drive … so to see them out there feels good and it motivates me as well to know I'm part of this community of people."
As for the future of the band, Thress confirmed that they are already working on three more singles: "Mansplaining," "Wind Blows" and "Gaslit." They are looking to release these songs in spring going into the summer, with the band previewing the song live at their performance at Prototype 237 in Paterson.
They hope these songs will lead them to go back on tour in early 2024.
Thress hopes that their music can help listeners get through tough times in their lives and inspire them to create and push forward.
"We're pushing something that not a lot of bands are capable of doing. We want to let you guys know that it's possible. If there is a will there's a way," he stated.
"You know, Ben said earlier 'I'm all over the place.' You know what else is all over the place? Water. And somehow we still need water!"
"Monsoon" can be streamed on Spotify and Apple Music.
The band can be found on Instagram: @sirsynthesis
Thress: @thirdcandy
Ben: @ben_shooter_music
Deivi: @deiv.castillo
Sellos: @crystalcaravans
Suo: @suoicsnocnu
Jeremy (Band producer): @jeremydelaney_